Okay hold onto your Bunnydeer Hatbox hats ladies…. for once….. I DON'T HATE SOMETHING!
I saw this advertised on instagram, by which I mean the instagram robots told me to look at it probably 100 times over the past few months. It spins your makeup brushes clean and then dries them. Of course I first thought… probably wreck my brushes so I shrugged it off. This past weekend a bride brought it in for her trial just to show me and I tried it and absolutely loved it! Though of course testing any makeup the internet shows me requires me to rigorously test it.
As you can see: I have a lot of brushes. 5 sets at the least, for special effects makeup I tend to try to use dollarstore ones so I can throw them away once get they gunked up with latex, scar wax and blood. It usually takes me a hour to clean just one set as well as I can with a sigma mat and soap. The wait another hour to have them dry properly.
So what do you get?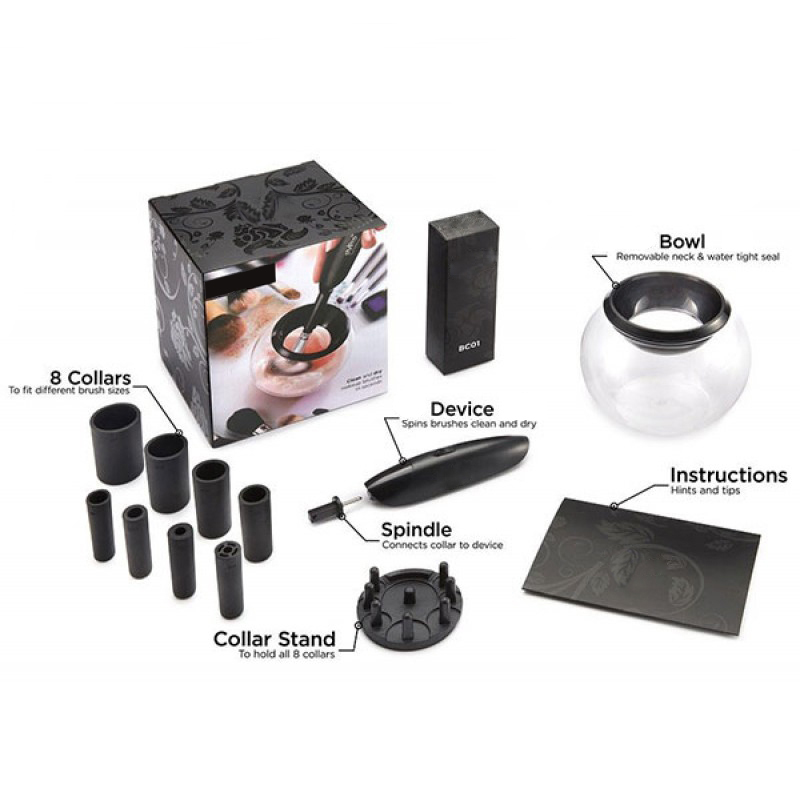 I like that it comes with all the different silicone heads that can fit different brush handles… even weird shaped ones. And a decent holder to boot! Because we all know we will lose one of those and will be pissed. The only thing that kinda sucks with this is that if you have double ended brushes, I was weary of shoving a brush end into it. I also didn't try any ova brushes in it as well.. I have them at home and I will edit once I try.. I can't see it working out too well.
I washed my normal dirty brushes after a wedding with 7 people and it worked great. You do
each brush and spin for a few seconds until it looks like nothing more is coming out, I still did a test wipe on a paper towel to make sure. Then you spin it again on top of the bowl to dry it. Always remember to still reshape and form your brushes.
But now the real test: my spfx brushes that I cleaned after working on a war movie.
That was the water after I redid all my spfx brushes… pretty good apparently I missed a bit, lots of the dirt effect was stuck in some of my blush brushes.
I really like this I can deep clean a foundation brush, which are normally packed tightly so they are hard to clean. It also does an amazing job at re-fluffing fluffy brushes (like shadow blenders and blush brushes).
Of course I found 2 other things I didn't quite like about it, but we all knew that was coming.
The hardest brush there is to clean is a lipstick brush. They are small, flat, tightly packed and lipstick is hard to get out. I tried and it got a bit off, I tried to kinda let the brush hit the bottom of the bowl. But when I did my test wipe on the paper towel it still had tons on there. Guess its back to the good old soap in the palm of my hand. I don't use my lipstick brushes on the sigma mat because it just stains it.
It did a great job drying and re-fluffing the natural hair brushes but for my black and gold handled brushes in my spfx kit are all synthetic so it had a harder time drying them. They aren't supposed to be fluffy anyways but just had to run them a bit longer in the bowl.
But it saves time and I 98% love it! Way to go internet!